Landscaping is not only gardening and lawn care; it encompasses every element of your outdoor space, including driveways, retaining walls, and patios. These "harder" elements to an outdoor space are called hardscaping. Hardscaping is key to creating a beautiful, functional outdoor area and an art form. However, you should not be intimidated to start an ambitious project as this comprehensive guide will walk you through the considerations you should be knowledgeable of before you begin.
Hardscaping refers to the non-organic components of a landscape design. Softscaping, on the other hand, includes the living components, such as grass, trees, and flowers. Together, they make up the entirety of a landscape design.
Hardscaping Project Types
There are several hardscaping features that can be incorporated into an outdoor space, ranging from simple DIY projects to larger, more complex undertakings that require the assistance of a professional. Some hardscaping project ideas include:
Walkways
Driveways
Freestanding structures (pergolas and gazebos)
Decks and patios, covered or uncovered
Fountains, ponds, waterfalls, and other water features
Retaining walls
Fire Features
Stone or gravel accents
General Hardscaping Materials
There are many materials to select from when it comes to a hardscaping project. Wirtz and Daughters prides itself in providing the Baltimore area with the hardscape materials you need. Some are more budget-friendly, while others are more expensive and require more complex installation processes. Here are some useful hardscaping materials:
Walkway pavers and driveway pavers
Wood for fences, decks, arbors, and other structures
Natural stone for steps, patios, walkways, walls, and water features
Concrete, whether it's poured or comes in pavers or slabs
Stone for walls, walkways, or high-end patios
Gravel for driveways, and walkways
Ceramic for fountains
Plastic or rubber to line water features
Hardscaping Cost
The cost of hardscaping varies greatly depending on the project's scope and the materials used. A small plug-and-play water feature or fire pit could cost as low as $299, while larger projects such as building a water feature or patio structure could range from $10,000 to $20,000. High-end outdoor kitchens can cost up to $100,000. It's essential to determine a realistic budget with the help of a top-rated local landscaper.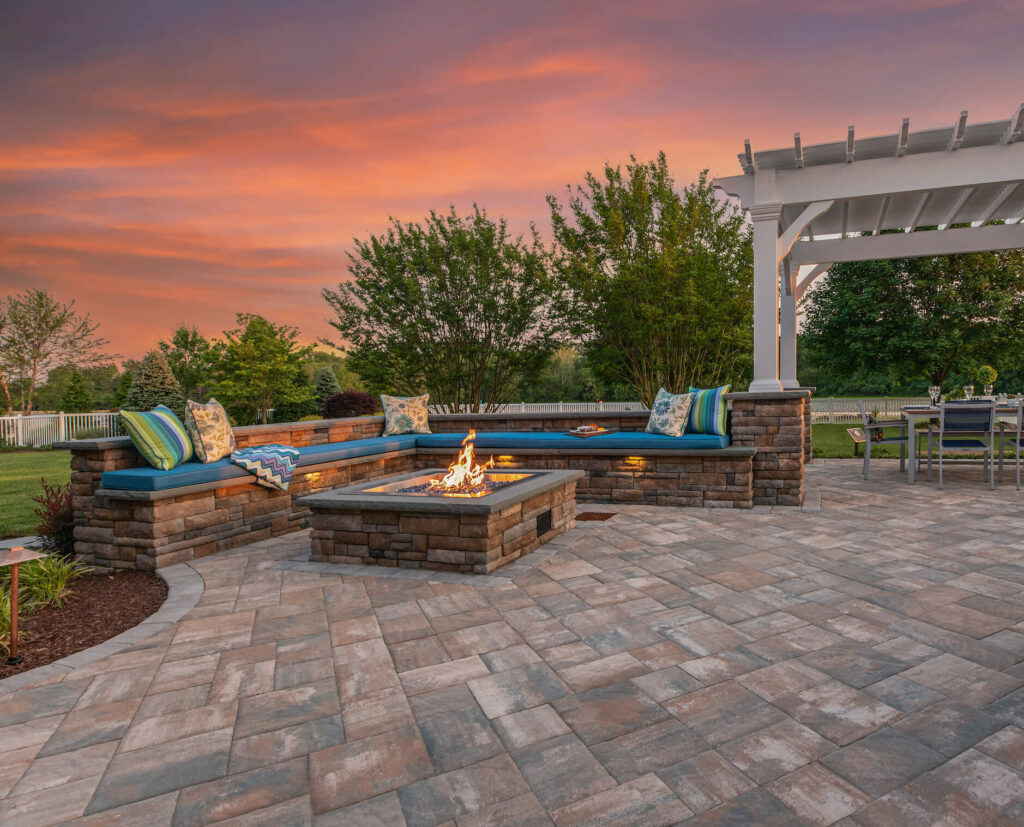 Tips for Planning Your Hardscaping Project
Here are a few tips to keep in mind when planning your hardscaping project:
Work with what you have

Think about the space you have, the style of your home, and your goals when planning your hardscape. Your hardscape materials should complement your house, and you want to avoid blocking any important walkways, access areas, and windows with your design.

Create a focal point

A good landscape design builds around a point of interest that people will attract a person's gaze. Don't' try to overwhelm the senses with too many features. Choose a few points or features and use hardscape and softscape components to supplement them.

Look for drainage issues

Hardscaping block natural drainage of water on your property. Plan out the potential runoff to avoid accidentally flooding your foundation. River rock can direct rainwater away from your home, while asphalt driveways can cause water to pool.

Mix softscaping and hardscaping

The premier landscape designs integrate both landscape elements (plants and trees) and hardscape elements (stone and wood) for a consistent look.
In conclusion, hardscaping is an essential component of any landscape design, and there are many hardscaping features and materials to choose from. By following these tips and working with a professional, you can create a beautiful, multi-use outdoor space that complements your home and fits your aesthetic. For more information on getting stone near you. Contact Wirtz and Daughters and we would be happy to assist with providing the materials you need for your project.